This year with the launch of the much anticipated Ryzen 3000 CPUs, AMD has closed the gap with Intel's most premium offerings over the years. In fact, some of AMD's CPUs seem to flat out beat their direct competition in every task imaginable. Read on till the end to know how we came to this conclusion:
AMD and Intel have been locking horns ever since the last 40 years. The rivalry certainly isn't new, and it appears that the rivalry isn't going to be over anytime soon.
History
Intel had always maintained an upper-hand on the CPU market for the past decade. AMD lagged behind it until the release of Ryzen in 2017. The vast performance differential and better efficiency of Intel processors over their AMD counterparts made them an obvious choice for the average user. Whether it was gaming, workstation computers, or even an office PC, the go-to choice was undoubtedly Intel.
However, everything changed with the launch of processors based on the Zen 2 micro-architecture – the infamous Ryzen 3000-series of processors. AMD knew precisely where they were lagging and caught up with their errors quickly. A much-needed effort at improving its IPC was brought in. Today it stands shoulder-to-shoulder with Intel's 9th Generation CPUs. Let's take a look at the different perspectives of their comparison.
The Cinebench Scores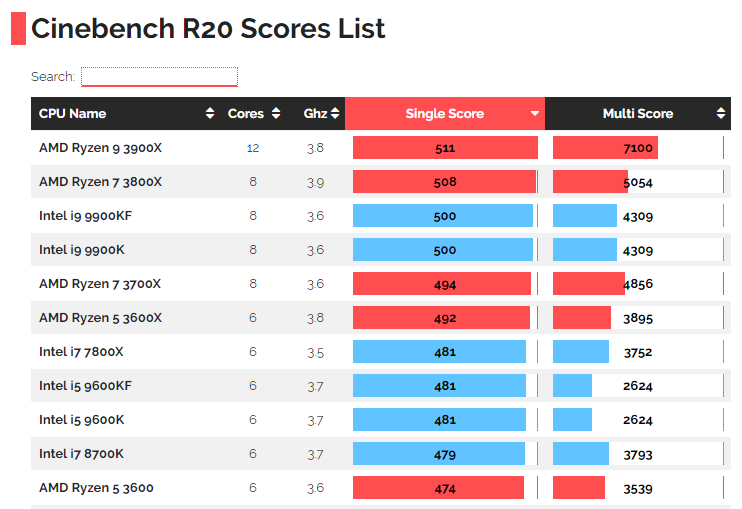 Ryzen's 12-core processor, the 3900X, was bound to beat Intel's 8-core 9900K in multi-core performance, as anyone would've expected. The results would definitely fall in Intel's favor once we compare them on the basis of the clock-speed.
Video Editing and Rendering
The 3rd Gen Ryzen is impressive, especially at its price point. With just 12 threads, it comes uncomfortably close to Intel's much pricier 18-core 9980XE.
When it comes to Premiere Pro and other video encoding tasks, Intel still has a lead.
However, seeing the 12-core 3900X come so close to an 18-core Intel processor is a sign of good things to come. It's was fully expected that the 16-core Ryzen 9 3950X had to take the top spot in these tests. AMD offers the best when it comes to CPU rendering performance. I see absolutely no reason to go with any Intel offering for any kind of CPU render-focused workstation like a render node.
Nonetheless, until then – the very best CPU you can get is still an Intel Core i9 9980XE.
General Productivity
While most of the CPUs can handle most general productivity workloads like Compression, Decompression, PC Mark, Excel. Yet, some might need a more robust system for more complex work. Thus a budget recommendation would be the Ryzen 2700X, while the Core i7 9700 series would be a better choice if the budget could be stretched a bit.
Here are a few benchmarks focusing on some popular tasks to help make your choice easier: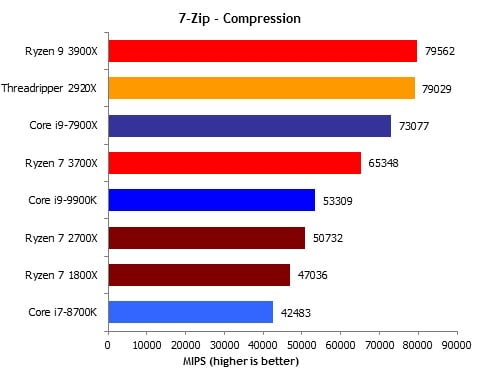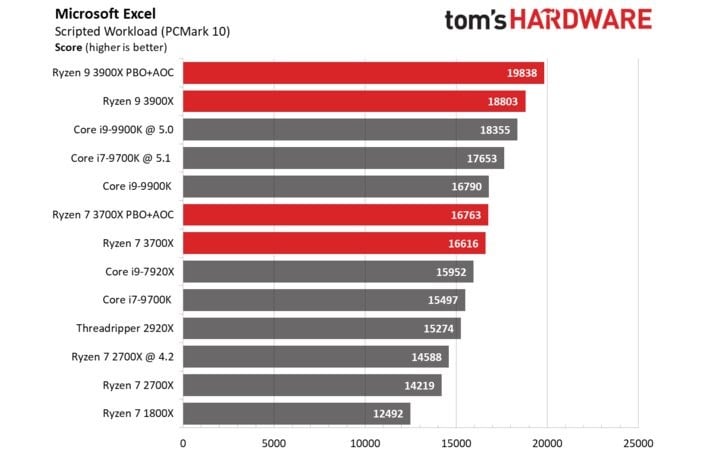 Gaming
Like Mac-OS versus Windows or Apex Legends versus Fortnite, the AMD vs. Intel rivalry is one of the greatest debates for PC gamers.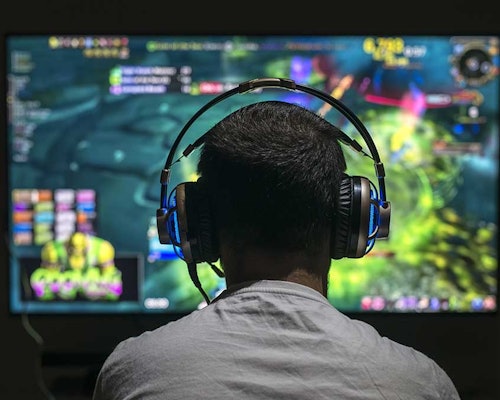 At the very low-end of the scale, AMD and Intel chips cost between $40 and $60 for a couple of cores and energy-efficient clock speeds. At the top of the scale, however, both brands have amazingly capable $500 chips.
For a middle-ground option, Ryzen 7 3700X is a fantastic option. With 8-cores and 16-threads, and a big boost to the IPC compared to its 2700X predecessor — all for $299, it's a killer chip that gives Intel's i7-9700K a run for its money in gaming and dominates it in multi-threaded workloads.
In recent years, AMD has been unafraid to push back against a dominant Intel by talking up not just the value-per-dollar but also the high-end performance that end users can find in their next-generation Ryzen processors.

~ PC World
The Future of Processors
If you're building a PC today that you may want to upgrade over the next couple of years, picking an Intel build wouldn't be in terms of the current trends. AMD has officially confirmed that it's currently working on developing Zen 5, which will be shaped and honed alongside Zen 4, with the design of Zen 3 – the successor to the existing Zen 2 architecture which powers current (and Epyc) CPUs and Navi GPUs – already done and dusted.
If you want to build a no-compromise machine for, say, general workloads and the clock-speed matters the most, then yes, an Intel-based system might be the way to go, even if it isn't as future-proof as the competition.
So, which team do you fall in, Team Intel or Team AMD? Let us know in the comments below.