Just like the large array of universities in India, Amity Universities are similar as well as unique in its own ways. Therefore, we present an opinion from the students of Amity University, Noida itself, to debunk the myths about the infamous university. It is one of the topmost Not-For-Profit University in India.
Students of Amity find the university to be splendid in many ways, which otherwise are perceived in a negative fashion.
The whole campus of the university is wi-fi enabled. Unlike other universities, the wi-fi actually works (XD). Now, who won't love this? And on top of this, there's no limit on the amount of data used by students. After all, it is for students.😎
The campus is whopping and humongous in scale. It spans across 4 million square ft and houses the academic blocks, hostel block, canteens, grocery store, gym, a colossal playground, etc., which is almost everything a student requires in the campus.
Academic blocks of the campus are fully AC campus to provide the best and comfortable environment for the students to study. The university also has a big Central Library to satisfy students' hunger for knowledge.
Student entry is through ID cards and Biometric Scan only. The university is highly strict in this approach. Safety is its topmost priority.
The university has several research papers published, under its belt. It conducts global level conferences like CONFLUENCE and SPINZ, where professors and students of different universities from all over the world come to publish their research papers and showcase their knowledge. It comes second in terms of papers successfully published, just after IITs.
Unlike rumors that faculty here not supportive, the majority of professors are really helpful and provide with many resources and opportunities out of the way. Students just need to be active and approach to their professors.
The university is very frequent in hosting technical and nontechnical events, which proves to be highly beneficial in the overall development of students from different streams and students having different hobbies. Amity management calls bollywood actors and famous singers for the students. Exposure is the best thing you can get in Amity, what you need to do is come out of your shell and start exploring.
The university also supports student managed clubs such as Alias, Adobe Club, Shutterbug, etc, which host their own events every now and then, call many foreign speakers and renowned professors.
Subjects like Behavior Science and a Foreign Business Language are compulsory here and are a catalyst in one's knowledge and skillset.
Every coin has two sides. What might be good for others, might not be worth appreciating for some others. Like :
Amity is SUPER strict in terms of attendance, but so are other universities like VIT and other technical universities as well; go below 75%, and you will get debarred. It appears to be a piece of cake until you actually experience it. Although it's a good thing to make college students punctual, according to students' point of view it's a NIGHTMARE. Any wrong action might cost you your attendance. No man, it's just not so done!
Amity is left a bit behind on fests when compared to universities such as DU. Amity annually hosts the Amity Youth Fest while DU hosts numerous fests like Crossroads, Reverie, Tempest, etc. Thus, Amity lacks the interaction level of DU, VITs, NITs, etc. This might be because the university focuses a lot on something that has a fruitful outcome. But dude you need to increase your fests' level.
Although the university provides many facilities inside the campus itself for it's students but, the fun students have outside the campus without restrictions that they can't have inside. Not many affordable places to hang out nearby. BALLI, near Gate 2, lies as the silver lining of the cloud.
People here are way too punctual and adhere to the timings strictly. No man, you can be this strict with deadlines after giving the deadlines at very short notice. You should be a bit flexible for the students.
It would be wise to say that Amity strives to be a brilliant institute in the near future and is currently making many new ties with big corporate giants and companies like Google, Indian Navy, Samsung, and many others, and has shown a lot of promising improvement in the placement area.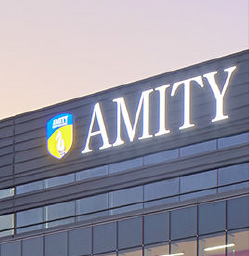 Hostels : Heart of Amity
It cant be denied that the hostels of Amity, Noida are the heart of the university pumping life in it. Although day-scholars add to the busy mornings of the university, it's the hostelers who keep the university alive at night.
It's quite evident that hostelers in Amity do get an edge from the day scholars, as, they get to participate in several events which are usually after 5 PM and day scholars often miss on such opportunities. On every festival, irrespective of it's origin it is celebrated with full spirit by the hostelers, day scholars often miss this fun. They even save time that day scholars fritter away in traveling to and fro the university. Staying in hostels of Amity is a completely new and different experience one makes for a lifetime. Amity keeps its campus and hostel fortified with inordinate security measures, making the hostel stay a safe one.
Being a hosteler here might sound to be fun but wait for what the hostelers have to say :
You can't bring your Day-Scholar ( who don't live in the hostel) friends to your room. C'mon now that's not done. Hostel management doesn't allow your friends to the hostel! Ok, you might have friends in the hostel as well but, there are some friends who want to spend more time with be it for recreation, gossips or studies. Leave about day-scholar friends, friends from other hostels are also not allowed!
You can't go outside the Amity campus without the online OUTPASSES. Hostelers have to get their outpass for stepping outside the campus. And you need to return to the hostel by the assigned time. It's sad to see you day-scholar friends move freely inside and outside the campus and you wait for you god damn outpass to get approved.
It's a pure vegetarian campus so it's obvious you won't be allowed to bring Non-Vegetarian food in the premises. But hostlers here not even allowed to order some vegetarian food for door-step delivery. Now that's a bit rude. Although it's appreciable that Amity provides a wide range of food dishes inside the campus, it has also provided with on-campus restaurants and branded food shops like Dominos, Mama-Mia, Subway and Dosa Plaza but, sometimes students get bored with it and we can expect them to take outpass and go out of campus and have food and come back. Doorstep deliveries should be allowed
But yeah, if above complaints are neglected for a while, Amity Hostels are the best place for those students coming from distant places. Parents rest assured that their wards are safe and having healthy food.
BALLI: Students' Paradise
Students studying in Amity are aware of the fact that the campus is vegetarian. It's very tough especially for the non-vegetarians to always rely on vegetarian food. So, when you are super hungry during that wee lunch hour and craving, then the one stop which comes to every Amitian's mind is the Balli Lane near Amity. The Balli lane houses make some of the most amazing Rolls, serve hot cups of Maggi noodles and various other local favorites like moms and biryani.
To summarize, Amity is a different world of it's own which provides you the best amenities to carve out the best of you 😊😎
I hope Amitians agree with the review and if there's any conflicting opinion feel free to tell us in the comments. If you more queries in your mind feel free to ask in the comments, it'd be our pleasure to help you out.