Apple held its special 'Time Flies' event virtually on September 15, 2020. It introduced various new products and features, one of which is The Apple Watch Series 6. The Apple Watch Series 6, though similar to its predecessors in its design, promises new features and updates like the blood oxygen level sensor and the new sleep app.
Hardware and Design
The Apple Watch Series 6 is the most colourful lineup so far including a new blue aluminum case, an updated classic old gold stainless steel finish, a new black stainless steel called Graphite, and an Apple watch in Red.
Case size: 44 mm or 40 mm
Watch Bands
Traditional watch bands have a buckle or clasp and they are only available in a few preset sizes for fit. Apple has sorted this out with the introduction of Solo Loop and Braided Solo Loop.
Solo Loop
The Solo loop is simple with no clasps, buckles, or overlapping parts, and is made up of a single continuous piece.
It is made from soft custom liquid silicone rubber that makes it stretchable enough to easily slip it on and off your wrist.
It not only looks good but is also durable, lightweight, and swim proof.
It is available in a range of sizes and 7 different colours.
Braided Solo Loop
Its single-continuous-piece concept is the same as that of Solo Loop.
The Braided Solo Loop is made from 100% recyclable yarn that is meticulously braided with ultra-thin silicone threads.
The Leather Band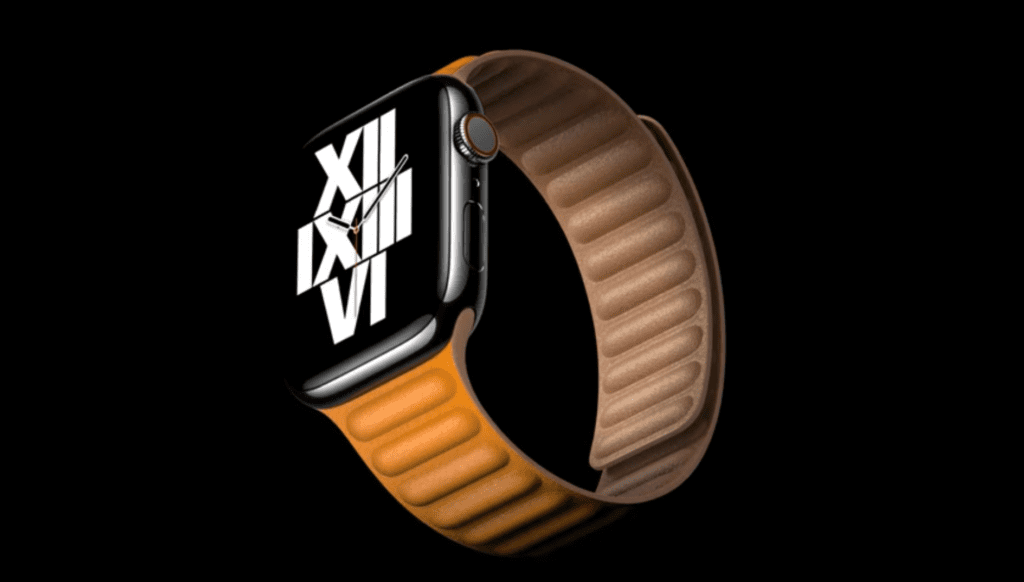 The new leather band has a new leather link.
There is no loop or clasp of any kind
Apple Watch Nike
The Apple Watch Nike has a new updated and fun sports band available in new sport loop colours.
It also has a new Nike Face.
Apple Watch Hermès
Apple updated the Apple Watch Hermès with two new bands called the Attelage bands.
It is available in single tour and double tour.
Inside Apple Watch Series 6
Apple Silicon's sixth-generation system in the package has a purpose-built design. It includes a high-performance dual-core processor based on the A13 Bionic in iPhone 11 but optimized for Apple Watch. It is up to 20% faster than the previous generation.
It has a better always-on-display which is possible because of its energy-efficient design. This makes it easier to read the Watch on sunny days.
The Altimeter is always on and it provides elevation in real-time.
The new Sleep App that uses emotion sensors to track your sleep.
The Automatic Hand Washing Detection feature recognizes the motion and sound while you wash your hands. It also encourages you to continue washing your hands for the recommended 20 seconds.
VO2 max is the maximum rate of oxygen consumption measured during incremental exercise. Watch OS 7 now has a feature that uses your motion and heart-rate to measure the lower range of VO2 max value.
It also comes with an ECG app.
New Blood Oxygen Level Sensor
The new blood oxygen sensor is made up of four LED clusters and four photo-diodes incorporated into the completely redesigned back crystal. It has the capability to record the blood oxygen level in 15 seconds. It shines red and infrared light onto your wrist and measures the amount of light reflected back. Advanced algorithms use this data to calculate the colour of your blood. Through that, it then calculates the oxygen level in the blood.
Series 6 also captures periodic background readings and stores them in your health app. So if you wear your Apple Watch to bed, it can record measurements while you sleep.
Launch of New Health Research Studies
To enable future medicinal discoveries, Apple is launching three new health research studies. The primary purpose of these studies would revolve around learning how longitudinal blood oxygen measurements, along with other health metrics from Apple Watch can help manage conditions that affect the heart and lungs.
Apple is collaborating with pulmonary experts at the University of California, Irvine, and Anthem. This is to study how asthma can be better managed and controlled using the physiological signals from Apple Watch.
To learn more about how metrics, including the blood oxygen level, can be used to manage heart failure, they are partnering with the University of Health and Network and the University of Toronto.
Apple is also joining hands with the investigators of Seattle Flu Study and faculty from the University of Washington School of Medicine to learn more about COVID-19 and influenza.
7 Watch Faces
Faces is the most powerful and personal aspect of The Apple Watch. With the launch of the new Apple Watch Series 6, new faces have also been introduced.
The GMT Face

It shows multiple time zones at once and takes into account where you are.

The Count-up Face

It lets you start tracking elapsed time from any given point.

The Chronograph Pro Face

It features multiple time scales including a tachymeter to measure speed traveled over a certain distance.

The Typograph Face

Numerals are displayed in the custom typestyles and four different scripts.

With artist Geoff McFetridge

Apple collaborated with the artist Geoff McFetridge to create a unique piece of art for everyone.

The Memoji Face

It brings memoji to Apple Watch with each one reacting and moving with touch.

The Stripes Face

Lets you choose whichever stripes you want according to your favourite team, to match your dress, etc.
More features of OS 7
The developers have come up with more specialised watch faces eg:
A watch face for surfers which also has apps like Dawn Patrol to check surf conditions.
For photographers, there is a special watch face with apps like Lumy to keep a track of the sun's position.
Health care providers can use the watch face specially designed for them with apps like Notable to keep a track of their upcoming appointments.
Price and Availability in India
Apple Watch Series 6 price in India starts at Rs. 40,900 for the GPS variant, while the cellular option comes with a price starting at Rs. 49,900. As of yet, there are no details provided regarding its availability.