The Cannes Festival, until 2002 called the International Film Festival and known in English as the Cannes Film Festival, is an annual film festival held at Cannes, France which previews new films of all genres, including documentaries from all around the world. Founded in 1946, the "Invitation-Only" festival is held annually (usually in May) at the 'Palais des Festivals et des Congres' which is a convention center in Cannes, France. It is one of the "Big Three" alongside the Venice Film Festival and Berlin International Film Festival.
Priyanka Chopra's Debut
The actress made her debut at Cannes Film Festival on Thursday, greeting crowd Namaste with a warm smile. The Actress wore a shimmery glittery black gown with a sparkling band of red on the bodice and a thigh-high slit by Roberto Cavalli. The actress stunned in a black embellished ensemble with a dash of pink and red studs around her waist. Showing off her natural beauty, she opted for minimal makeup, wearing pink blush and a slick of lipstick to finish the look. She wore her hair swept to the left side in elegant, set in loose curls which cascaded down her shoulder.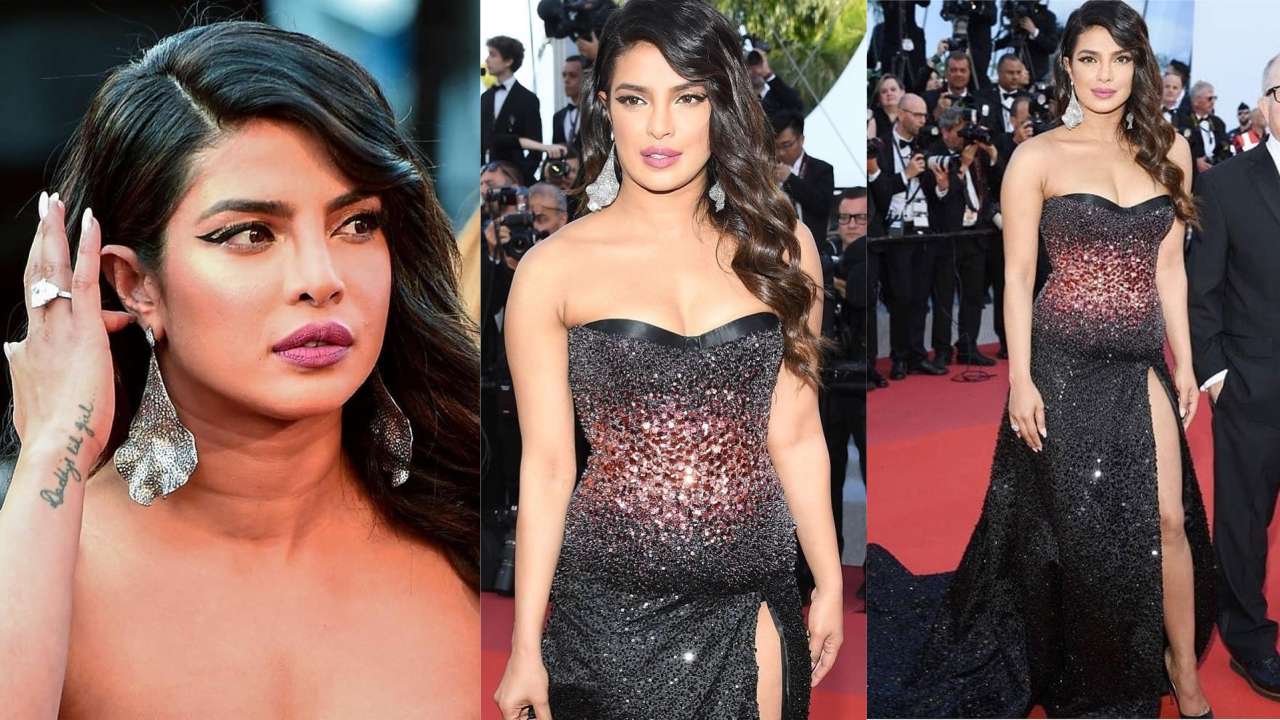 Perhaps, the outline of the gown made her look little fat, also the area around the slit looks weird from the front. And the gown more of a vintage look. Also, the neckline of the gown could be better like straight across or jewel neck. But overall makeup and appearance on the red carpet were on point. The actress showed off her cleavage as revealed by a low neckline on a dress and her toned legs during her first Cannes outing, and the closer you look at her gown, the back of the gown was interestingly made out of crisscross and tied up with a node.
Now if we come up to the designer Roberto Cavalli, he is an Italian fashion designer and inventor. He is known for exotic prints and for creating the sand-blasted look for jeans. The high-end Italian fashion house Roberto Cavalli sells luxury clothing, perfumes, and leather accessories. The actor's Cavalli creation featured a dual-toned bodice—reminded of a starry night—as well as a dramatic train. Scroll ahead to see her complete look.
Let's discuss, her second most appealing look of Cannes. The couple attended the screening of The Best Years of a Life on Saturday evening. Priyanka wore a big white ruffled gown to the red carpet and Nick wore a matching all-white suit. He held out an umbrella for her at the red carpet to save from the rain.
Also, she opted many other looks for Cannes Film Festival, let's have a look over them too.