Confidence plays a key role in one's overall personality development. It has been found that the confidence level is directly linked with a man's outfit. It is said that the first impression happens to be the last impression. Well knowing this, it is important that we pay attention to our day to day outfits. In this article, you will find some easy to follow guidelines on how to match your outfits based on the color scheme.
Understanding The Basic Idea Behind Matching Clothes
a) The secret lies in contrast : While pairing clothes, it is important that we have either the top in a dark shade and the bottom can be of a light shade color. Either this can be done or vice versa. Although same tone outfits can also be pulled off like a pro but if one is going for different colors, remember to keep the contrast in mind.
b) Keep tonal outfits at bay : Pairing a three piece, all of the same color can be pulled off successfully but needs high attention on each detail. This is a more advanced concept and would be covered in a different article.
c) Avoid shades of tops which are similar to your skin color : While pairing outfits, one must keep in mind to avoid shirts which are of a shade close to their skin color. This is important as it would avoid making one look too pale and worn out.
d) With the right color comes the right fit: In order to look perfect, one must pay good amount of attention to the fitting of their clothes. It is advisable to avoid clothes which are too tight fitted. This rule must be followed specially when one is opting for clothes of a light shade.
Decoding Various Combinations of Color Schemes
1) The Slight Tonal Shift
This type of combination involves two pieces of clothing of the same color but with a slight variation in the shades. This look is best suited when the top is that of a lighter shade while the bottoms have a dark shade. This look seems quite sophisticated because of the slight difference in the shade of the color. Every color either belongs to the warm hue or the cold hue.While going for this look, one must keep in mind to match the hues of the both the outfits. A light blue shirt with a slightly darker shade of jeans is a prime example of this classic look.
2) Colored Bottoms Paired With a Neutral Top
This exquisite look is very popular in the recent times. From airports to casual parties, it can easily rock all casual occasions. One can strongly establish this look by wearing a sober colored top which can be paired with a lively colored bottoms. It is advisable to keep the bottoms bright colored, drawing all attention to the lower half of the body. The basis of this look is to add more definition to the lower half of the body. Adding some unique patterns along or bright colors to the bottom is a great option for this outfit.
3) Neutral Top, Neutral Bottom
Looking at the popularity of the neutral top and neutral bottom look, we can easily say that it is a very underrated look. This simple look comprises of a sober colored top paired along with a light colored bottom. Experimenting with different shades of grey provides a casual look to the attire.
4) Full Body Same Solid Color
This is a great look as it does not draw attention to any portion of the body hence highlighting the accessories such as a great belt or designer shoes. The specialty of this look lies in the fact that it makes one appear taller and slimmer by not dividing the body into two halves. The versatility of this look is shown when experimenting with solid shades of blues and grey.
5) White Top Look
The 'White top look' happens to be the most sober yet sophisticated look at the same time. White being a soft neutral color, goes well with a bottom of any color. Looking at this specialty of the look, be it casual or formal, one can easily pull it off in almost any occasion. White being a soft shade, allows the focus to shift towards the lower half of the body. Since the top is of a plane shade, opting for denims or pattern printed trousers seem to be a very smart move.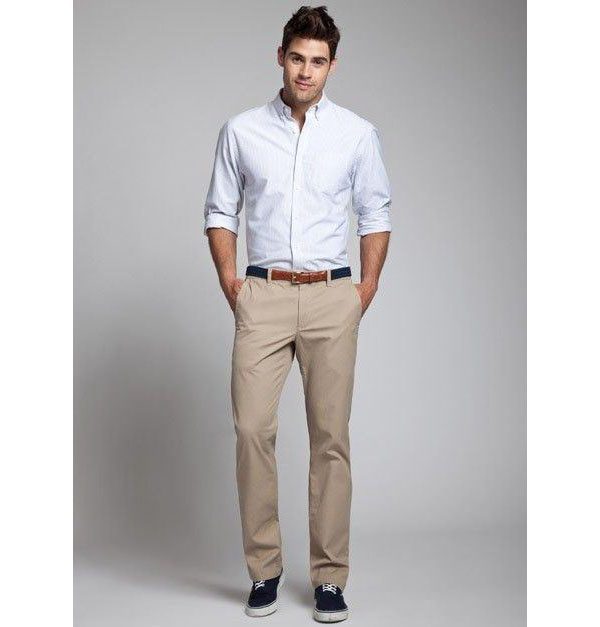 6) Black Top Look
Black being a unique color can be paired with bottoms of any color. It is advisable to wear a black shirt along with a light colored trouser for a more formal look. A black shirt is considered to be a gentleman's wardrobe friend. Black shirts can also be paired with a trouser of a darker shade to look taller and hide any form of body fat. It can be paired with a light colored trouser for a casual look and a dark colored trouser for a more formal look.
7) Pattern Top Look
A pattern shirt is a must have in every gentleman's wardrobe. It is the primer for sporting a dignified casual look. The key to wear this shirt is to opt for smaller patterns. It is commonly said that the smaller the pattern, the more mature is the overall look. While opting for a printed shirt, it is advisable to avoid plaid shirts, instead go for smaller checks and dots. This look is a novelty when paired with metallic or leather accessories.
With the understanding from this guide, one can build his own 'gentleman's collection' of clothing and make his style statement. Now after learning the fundamentals of color combination, every wardrobe can be turned into a classic and versatile collection of attires.