Kaash tumne meri wafaa ko bewafaai na samjha hota. Kam se kam bewafaai toh wafaa se nibhaai hoti.
Ab hamare beech Prem nahin raha!
OR
Mr. Obhodro tumhi ekdum impossible.
You read it right and if you are a fan of Indian soap operas, you might be familiar with these famous dialogues. There's only one name that comes to everyone's mind after reading these dialogues and that is ERICA JENNIFER FERNANDEZ. The most loved Sanskari Bahu and Adarsh Patni of the Indian Television Sitcom in recent times. Erica has created her fan-base with her performances in the famous shows like "Kuch Rang Pyaar Ke Ese Bhi" and "Kasauti Zindagi Kay 2". The flavor she adds to her role is rarely replaceable.
About:
Erica Jennifer Fernandez was born on May 7th, 1993 in Mumbai, Maharashtra to Ralph Fernandes and Lovina Fernandes. She belongs to the Konkani Mangalorean Catholic family. Erica went to Holy Cross High School in Mumbai for her schooling. She took admission in St. Andrew's College Bandra for BA degree but dropped for her passion modelling and acting. Although she completed her BA degree from SIES College of Art, Science, Commerce, Sion in Mumbai.
Erica's hometown is in Mangalore, Karnataka. The actor has four members in the family. Her father, Ralph Fernandes himself is a former model and Interior Designer and her mother, Lovina Fernandes has worked with Air India and Bank of America. Her elder brother, Jermaine Fernandez works at "Ernst and Young" in Mumbai. The family preaches Christianity as their religion.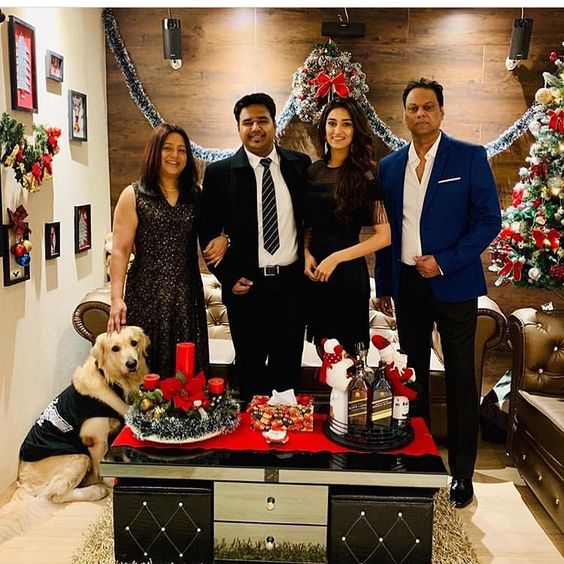 Fernandes is single and unmarried. Although several rumors are always in the sky in regards of her affair and personal life.
Hobbies:
Besides modelling and acting, the daily soap actor loves to do cooking, painting, designing clothes and doing adventures. One of her favourite adventures of all time is sky diving. Erica also loves to pet dogs. She considers dogs as a part of her family. Off all the breeds, she is very fond of the Labrador, which she adopted a year ago.
While Erica was not shooting for famous daily soap "Kuch Rang Pyaar Ke Ese Bhi", she was found spending her time learning a new hobby, i.e., playing the guitar. She also loves to do photography.
Erica Fernandes's favourite food is Mee Kari, Laksa and Pizza. Her favourite actor is Robert Downey Jr. while her favourite actresses are Deepika Padukone, Priyanka Chopra and Kangana Ranaut. Her all-time favourite subjects to read is History and Psychology.
The actress has got a tattoo in both of her hands. A dog's paw on the left hand's wrist to show her love for the dogs and a Christ tattoo on the right hand reflecting her faith in Christianity.
Career:
Erica always wished to become a model. Erica won the title of the Bombay Times Fresh Face 2010. Climbing the stairs to success, she became the face of Pantaloons Femina Miss Fresh Face 2011 and Pantaloons Femina Miss Maharashtra 2011. In 2012, she contested for the Pantaloons Femina Miss India in which she won the title for the Miss Fresh Face. She was among the top 10 models contesting for the Miss India crown.
Movies:
Since 2013 onwards, Erica has worked in theatre and film industry where she has done several roles in Tamil, Telegu and Kannada movies. Her first-ever movie was "Ainthu Ainthu Ainthu". She made her debut in the Hindi film named "Babloo Happy Hai ". The director of the movie was Nila Madhab Panda. The film was released in the year 2014 and in the same year Erica's 5 films were released namely, Ninnindale, Virattu, Galipatam, Dega, including Babloo Happy Hai.
Television:
Erica made her debut in Hindi Television Sitcom in the year 2016 on the show "Kuch Rang Pyaar Ke Ese Bhi". The show went on air in the Hindi television channel SonyTV. The show was on air for two consecutive years 2016 and 2017. The actress became popular for her role of Sonakshi Bose as a nutritionist. The Indian audience loved the ongoing chemistry between Sonakshi Bose and Devrath Dixit (Shaheer Sheikh). Erica is currently working on the show "Kasauti Zindagi Kay 2" aired on Star Plus since 2018. The show is still on air and people love her new role as Prerna Sharma Basu.
Social Media:
The gorgeous actress is all over social media. With around 2.6 M followers on Instagram, and around 116.5K followers on Twitter, the actress today is a brand herself. Erica also has her own YouTube Channel where she regularly uploads videos on skin care and beauty products. With her fans following her on social media, the channel has around 1.24M subscribers. The actress is also active on TikTok during the quarantine and regularly keep posting funny videos on it. Although, she prefers YouTube more than Tiktok. There's a Facebook page of her which has more than 1.3M followers.
In 2017, Erica was positioned fourth in Times of India's 20 Most Desirable Women on Indian Television List. In 2018, she was set fifteenth in Biz Asia's TV Personality List. She was recorded third in Times of India's Top 20 Most Desirable Women on Indian Television 2018 List. In 2019, she was set thirteenth in Eastern Eye's 50 Sexiest Asian Women of 2019 List.
Today, the stunner needs no introduction. Erica J. Fernandes has an estimated net worth of $1 million as of 2019. She owns a BMW 5 series. She lives in a luxury apartment in the posh area of Mumbai.
I am sure she is heart-throb for many of you and her simplicity adds in her overall personality. Comment down your favourite celebrity and let us know if you're also a fan of Erica.