Fleeting trends and one season wonders can be quite frustrating. So, let's go back to basics and add a few pieces in your wardrobe that are classic transitional and you don't have to spend single second worrying on what to wear and most importantly, it is cost-efficient.
By essentials it also means:
You always know what to wear
You get more outfits from fewer pieces of clothing
You never waste money on clothes which you won't wear
You shun quantity to choose quality
So, here are some pieces that you guys can add in your wardrobe.
SHIRTS :
COLLARED DRESS AND CASUAL SHIRTS:
The basic rule followed here is that every man should have at least seven collared shirts. These men's wardrobe essentials come in two flavours: dress shirts and collared button-downs. But how to know which is dress shirt and which is casual ones.
Dress shirts are more formal and made to wear under a jacket. A dress shirt normally has no more than one pocket. It won't have any prints or any other decorative features. It'll normally be in a solid colour or a stripe or check.
For a versatile selection of dress shirts, start with blues and whites and add a colour or two of your own choice.
The casual button-downs come in a wider variety of styles and patterns. You might see double pockets with buttons on the chest. You might also see roll-tab sleeves (to keep the rolled-up sleeves in place), button-down collars, and different coloured contrasting fabrics on the placket, collar, and cuffs.
The picture below is to help you for picking colour if you are confused.
NON-COLLARED T SHIRTS:
The most basic yet the most versatile piece that men should have in the wardrobe is this cloth item. You can pair it in casual or formal or semi's according to your taste.
Unlike the collared shirts, you can't get these tailored to fit. So, make sure you buy a size that actually fits your body type. Don't go for graphic ones if you don't want to go for an ultra-casual look. Round and V- neck are two preferably neck silhouettes. Try a V-neck to give you more of a masculine 'v' silhouette. Neutrals are your always go-to option but it doesn't mean that you cannot play with colours. Remember that fashion is all about making your own rules.
MAKE JACKETS YOUR NEW BAE :
I'll divide jackets into 3 categories – suits, sport coats, blazers. Every man should at least own two out of these three categories, but the number can vary according to your needs.
FORMAL JACKETS :
Generally, suits are the most formal jackets, made out of the same material and they come in darker colours. You can go for a navy suit as it flatters all skin tones and also gives you endless possibilities for the shirt – tie colour combinations.
SPORT JACKETS:
As suits are a tad too formal, sport coats with any combination are good to go. They come in wide ranges of colours, are more rugged, and have textured fabrics. It's the most casual element out of the three so it gives a huge scope to others to play with mixing and matching. You can start with a dark grey coat for starters as it matches with navy, blacks, browns, your pieces of denim, and even your khaki.
BLAZERS:
Blazers come in the middle. They come in darker colours, traditionally were navy and sometimes with gold buttons. They give nautical feel so we might see the little anchor on the buttons.
VERSATILE TROUSERS :
Don't forget that wearing right pants uplifts your upper garment. One of the most versatile section of men's fashion.
FORMAL PANTS :
If you dress up often for meetings, or if you are from the corporate field getting a pair of formal pants is a must. Make sure they are form-fitting, according to your body type. Navy blue goes well with all skin tones but don't forget, go with your preference.
DENIM PANTS :
You can dress denims up or down, making them incredibly versatile in most parts of the world. It's very important to choose the best jeans for your body type and make sure they fit. keep in mind " No rips, no tears (accidental or purposeful), no studs and no pre-fading. No sagging in the butt, no bunching around the ankles and no bagginess around the thighs just good fitting" for starters go with two pairs of dark colour denim and later on change according to your preference.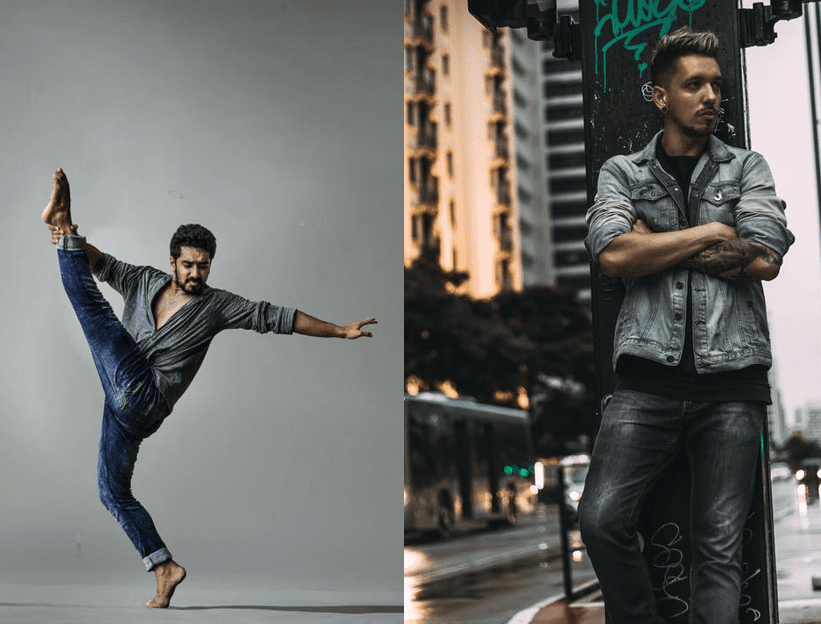 KHAKI PANTS :
Dark straight-legged khaki pants are a great option apart from the denim pants. Go with a caramel or camel hue that will work with a grey sports jacket or red flannel button-down alike.
CHINOS :
Chinos are smarter, lighter-weight lower garments which can be considered some of the smart pieces of your wardrobe. You can style it in casual or semi's, according to your preference or the mood of the event.
SHOES :
Good foot wears last you a lifetime. Let's divide them into 3 categories – formal, casual, boots.
FORMAL:
Before getting a pair of dress shoes ask yourself "how dressed up am I going to get?" and that's the place where you get your answer to what kind of shoes you want. If you don't dress up much you can go with Loafers. If you dress up little, you can go with Double Monks as they are stylish and stands out well in a good way. If you dress up often you can go with Balmoral Oxford shoes, as they are classic formal shoes. Blacks and browns are your go-to colours.
All the 3 types of shoes stated above have pointed tips as they are more classy, effortless, and definitely chicer.
CASUAL:
This area has a larger possibility of great options. So, go with your choice, your likings. Sneakers are great options when it comes to casual footwear. For starters, you can go with plain sneakers of any colour. White is in trend right now but you can play with colours here. Make this your comfort zone as footwears reflect your personality. Keep in mind that your shoes match with one element of your clothes.
BOOTS :
Again, there are tons of options, and it largely depends on your demand. If you are a suit-wearing person you can go for Chelsea boots. If you are a jeans-wearing person you can go for Suede Chukkas. If you are a military kind of a person who does a lot of rough and tough work you can go for chunkier casual boots like combat boots. Pair it with your denims and jackets and you are good to go.
STYLIZE YOUR ACCESSORIES :
As mentioned earlier, accessories give dimension to your whole look. It's different for each individual. If you think properly and add them wisely in your look, they will become your signature elements. Your watches, sunglasses, belts, bags, caps, hats, tie pins, stud earrings, wrist bands, lockets, tie, perfumes, deodorants, and many more.
"If you are confused which tie to go with, you can choose a Grenadine tie as it has textured open-weave silk that creates visual interest even in a plain colour."
UNDER GARMENTS :
Everything comes later but not your inner wears. Invest in a good quality coloured inner-wear. See whether it's comfortable or not. Here, your comfort should only be your priority.
COLOUR COORDINATION :
Different colours go with different individuals. Neutrals are your ultimate saviour, but it doesn't mean that you cannot get creative with colours. Go with your preference. If you know that any colour goes well with you and makes you stand out in a good way then it's not bad if you have a pair or two, of the same colour in your wardrobe. Go out and rock that look with confidence.
Last but not least,
"Do not have blind faith in every fashion trend that you see, analyze it yourself before adding them up in your collection."