The very first thing any normal person's mind would want to confirm while using a public restroom is that their privacy must not be evaded. But did Tokyo forget this basic thing before installing TRANSPARENT PUBLIC TOILETS in their parks? Have they forgotten that their toilets symbolize their world-renowned hospitality culture?
Well, no, Tokyo did not forget their culture rather they have joined hands with technology to come up with something new, different and public-friendly transparent public toilets. "But how the hell in the world are transparent toilets good for people??! ", this might be the question popping up in your head as you are reading this.
We shouldn't worry as these toilets aren't actually transparent. They turn opaque when a person steps inside and locks the door.
There are two things we worry about when entering a public restroom, especially those located at a park. The first is cleanliness, and the second is whether anyone is inside. Using the latest technology, the exterior glass turns opaque when locked. This allows users to check the cleanliness and whether anyone is using the toilet from the outside. At night, the facility lights up the park like a beautiful lantern.

– ARCHITECT SHIGERU BAN (Creator of these Transparent Toilets)
Keeping the important concept of queue and cleanliness in his mind, Mr. Shigeru Ban has successfully installed these see-through public toilets in Yoyogi Fukamachi Mini Park and Haru-no-Ogawa Play Park of Shibuya City, Tokyo. Each of the two facilities includes a men's toilet, a women's toilet, and a mixed-use toilet.
Facilities Includes:
When occupied and locked properly, the tinted glass toilet stalls become frosted and opaque. When the door is unlocked, an electric current realigns the crystals in the glass to allow more light to pass through, creating a transparent effect.
If considered, a small demerit of this technology is that, once inside, users cannot tell of the glass is frosted or not. Hence, it is incredibly important to remember to secure the lock.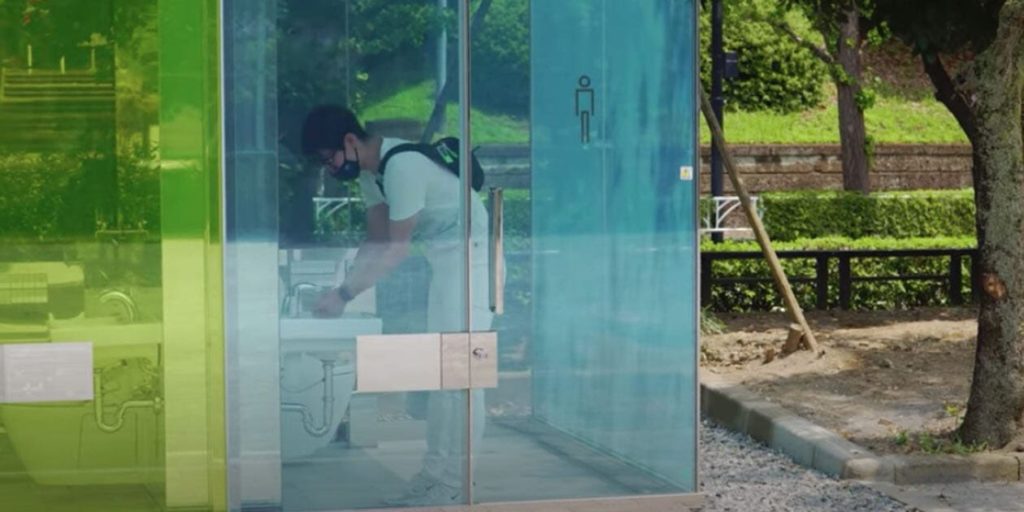 Bringing this new tech transparent toilets in use for the public is an attempt to do away the idea of public toilets around the globe being dark, dirty and dangerous. Although the initiative is good but the answer to question of women's safety and comfort is still uncertain. Let's see if these toilets are able to address all worries and concerns of the public and prove being a next-gen and safe public toilet.