As days pass by, there is an enhancement in technology every single day. There was a time when a RAM used to be as big as the size of a room. Today, with the advancement of technology and innovation, the world has come down on our fingertips. This brings the world close to us. Smart wearable devices have been innovated which we can wear on our body. It can on our wrist, ankle, as a ring, a shoe, a pair of socks, and many more. Even today, big companies like Apple, IBM, etc. are researching new technologies to provide better use of smart wearable devices. Smart wearable devices are mostly used as a device in the field of medical science. Although, it can be used for various other purposes as well. One such product is the Voixatch: All in One Smartwatch.
About:
Voixtach is the world's first-ever Smartwatch which comes with a Detachable Bluetooth Headset. The smartwatch comes with the LTE + GPS + Fitness Track and a detachable Bluetooth headset. It means such a Bluetooth device which can be connected with both smartphone and smartwatch at the same time. A cellular-enabled smartwatch which anyone would like to customize and adapt. The device can also be used as a Bluetooth headset which keeps its customer connected where ever they go.
Going back in time, the journey of the Voixatch began in the year 2015. The concept of Voixatch was found in June 2015 and by the end of the year, the company filed its patent. The company received the patent in February 2017 from the US government. The initial design of the watch was launched in April 2017. From there on the company never looked backed and in May 2020 the company began manufacturing for the Mass. A whole timeline can be seen below:
Key Features of Voixatch:
1. Portability:
The product guarantees its customer exceptional probability even when you are out on the streets for slightest of work. The smartwatch is truly wireless and gives its customer more freedom and convenience as it is powered by Goggle Voice. As you can say, the world is on your wrist.
2. Connectivity:
The product can be connected with your smartwatch, anytime and anywhere. Even when you don't carry your phone, the watch stays connected. Voixatch works as a cellular smartwatch with built-in Bluetooth Bezel Headset which is ready for you to make and take the calls. It also notifies its users about the messages and emails and they can effortlessly text from it as well.
3. Fashion:
Well the Voixatch is not just a smartphone, it is all in one with high-tech and cool fashion. It features a customizable design, i.e., you can customize your headset whenever you wan to. If you are a fashion freak, surely you would love to show-off this product in front of your friends.
Whether it is a party night or an important meeting at your office, when technology meets fashion, unacceptable deals are also accepted. From Moonlight Blue to Platinum Silver, which ever colours suits your dress code, you must wear it – to impress!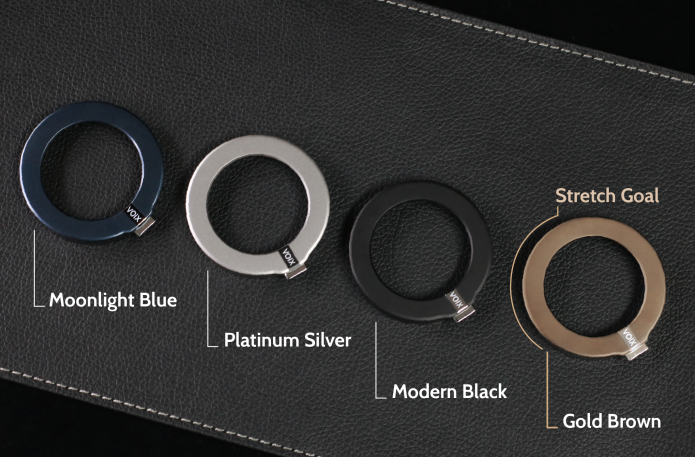 It truly enhances your lifestyle and dressing style at the same time. Well, for a businessman or an entrepreneur time is money and they wouldn't want to lose any cent of it. So it is in the lifestyle best suited for these people.
4. Optimized UI / UX:
The difference between Voixatch and other smartwatch is that, for other, you might have to carry your charger or power bank to recharge it. But not anymore. Voixatch recharges itself on your wrist only and keeps it ready for your next call.
Not only the intuitive Ul/UX allows you to easily control watch functions and apps, but also the optimized way of using H/W makes it easy for you to access Voixatch functions. For instance, an incoming call will be automatically received two seconds after detaching the bezel headset.
.  Furthermore, the hexagonal based icon, optimized for circular display makes it easier to touch the frequently used apps.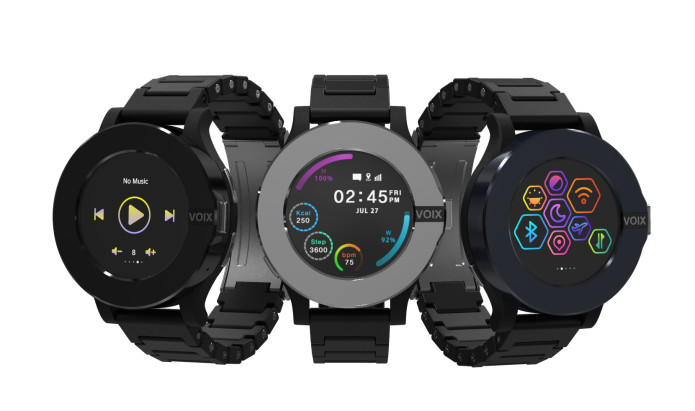 4. Handy to Use:
The detachable Bluetooth device can be easily put around the ears using your hand thus making it handy to use. Just detach the bezel and push the side button, then a support hook on the back of the headset pops out, and there you go. You can secure the headset on your ear.
6. Safe and Secure:
It has a wing-shaped protrusion to prevent the bezel from detaching unexpectedly. Thus, making it harder to lose and easier to keep safe and right where you want it, all the time. To detach the Bluetooth bezel headset, all you need to do is, twist it counter-clockwise and then lift it off the watch body.
How Voixatch is better than other Bluetooth headsets ?
Well comparing Voixatch with three best-selling Bluetooth headsets, i.e., with AirPods Pro, Powerbeats Pro and Sound Peats, a lot of promising outcomes came out in favour of Voixatch. Vioxatch provides LTE, fitness tracker and App Notification which other headsets fail to give. The charging of Voixatch is done on the wrist while others are charged under the case. The Voixatch headset is customizable but not the others. Last and most important is the price. The all in one Smartwatch: Voixatch comes only at $179 while other ranges around $249.  
Specifications:
Bluetooth:
Well the Bluetooth device chipset installed is Qualcomm QCC3066 and Bluetooth version of 5.0. The talk-time of the device lasts for 3 hours and it can be put on stand-by for 2 Days. The operating range of the Bluetooth device is 10 meters.
Smartwatch:
Speaking of the smartwatch, the processor of the same is ARM cortex-A53 (4-cores, 1.5 GHz). The on-board memory is of 2 GB with a storage of 16 GB. The touch display of the all-in-one smartwatch is 1.3" AMOLED (360*360) provided with Android-based OS. 2 major sensors, i.e., heart-rate sensor and Gyro Sensors are used for fitness tracking. The smartwatch comes with a battery of 580 mAh and with a battery life of about 2 days.  
So guys, if you have read so far and impressed by the company's work, you surely won't leave just here without buying and thus you can pre-order here.
(Source: Kickstater)